Temporary hours during the St Cloud closure: Monday-Thursday - 10:00 am to 8:00 pm; Friday - 10:00 am to 6:00 pm; Saturday - 10:00 am to 5:00 pm
EVENTS AT WAITE PARK LIBRARY
Book Buds
Date: Thu Nov 10, 2016
Age Groups: School Aged Children
Time: 4:00 PM

Join our children's book club. Discuss and share ...
Writers Group
Date: Mon Nov 14, 2016
Age Groups: Adults
Time: 6:30 PM

Meeting features a writing prompt and writing them...
Toddler/Preschool Storytime
Date: Tue Nov 15, 2016
Age Groups: Toddlers, Pre-schoolers
Time: 10:30 AM

For ages 18 months to age 6 (children under 3 acco...
~~ View All Waite Park Events ~~
WAITE PARK LIBRARY INFORMATION
Monday: 12:00 - 8:00
Tuesday: 10:00 - 2:00
Wednesday: 2:00 - 6:00
Thursday: 1:00 - 8:00
Friday: 2:00 - 6:00
Saturday: 10:00 - 1:00
Sunday: Closed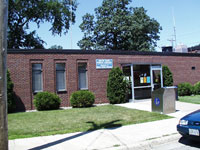 Community Links