EVENTS AT FOLEY LIBRARY
Preschool Storytime
Date: Fri Mar 6, 2020
Age Groups: Pre-schoolers
Time: 10:00 AM

Join us as children have fun and gain early litera...
Explore and More
Date: Mon Mar 9, 2020
Age Groups: Teens, School Aged Children
Time: 3:30 PM

Hands-on science is the best science. Have fun wit...
Bees 101
Date: Sat Mar 14, 2020
Age Groups: All Ages
Time: 10:30 AM

Join local beekeepers Michael and Elizabeth Englan...
~~ View All Foley Events ~~
FOLEY LIBRARY INFORMATION
Monday: 2:00 - 8:00
Tuesday: 9:00 - 12:00, 1:00 - 6:00
Wednesday: 2:00 - 8:00
Thursday: 2:00 - 6:00
Friday: 9:00 - 12:00, 1:00 - 6:00
Saturday: 10:00 - 1:00
Sunday: Closed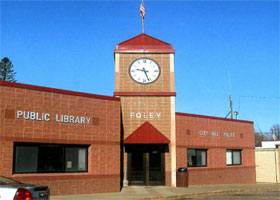 Community Links