EVENTS AT BELGRADE LIBRARY
R.E.A.D Book club
Date: Fri Oct 18, 2019
Age Groups: Adults
Time: 6:30 PM

Contact the library for the book selection and oth...
Dark Tales of Mystery & Intrigue: An Exciting, Amazing, and Fascinating Journey
Date: Fri Oct 25, 2019
Age Groups: Teens, Adults, Seniors
Time: 5:00 PM

Do you like spooky tales, and the people who write...
Stories and Pumpkin Carving
Date: Mon Oct 28, 2019
Age Groups: School Aged Children, Pre-schoolers, Family
Time: 3:00 PM

An interactive program for parents and children –...
~~ View All Belgrade Events ~~
BELGRADE LIBRARY INFORMATION
Monday: 2:00 - 5:00
Tuesday: Closed
Wednesday: 2:00 - 5:00
Thursday: 10:00 - 1:00, 2:00 - 5:00
Friday: 2:00 - 5:00, 6:00 - 8:00
Saturday: 9:00 - 12:00
Sunday: Closed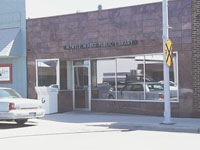 Community Links