EVENTS AT SWANVILLE LIBRARY
Storytime
Date: Wed Sep 27, 2017
Age Groups: Pre-schoolers, Toddlers, Babies
Time: 2:30 PM

Stories and activities for young children of all l...
LEGO Club
Date: Thu Sep 28, 2017
Age Groups: School Aged Children
Time: 3:30 PM

Do you like building with Legos? Bring your imagin...
STEAM: T-Shirt Tote
Date: Mon Oct 2, 2017
Age Groups: Teens
Time: 4:00 PM

Turn your old t-shirts into re-usable bags. Bring ...
~~ View All Swanville Events ~~
SWANVILLE LIBRARY INFORMATION
Monday: 10:00-1:00, 3:00-6:00
Tuesday: 3:00-6:00
Wednesday: 1:00 - 7:00
Thursday: 3:00-6:00
Friday: Closed
Saturday: 10:00 - 12:00
Sunday: Closed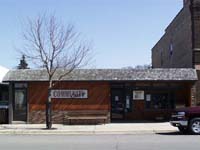 Community Links