Active eBook Patrons
15,533
Items in Catalog
881,856
Chat Reference Sessions
2,927
 
 
Digital Library Titles
26,462
Checkout Sessions
300,887
Summer Reading Participants
4,080
 
 
Digital Library Users
49,590
Digital Checkouts
259,014
Winter Reading Participants
3,258
 
 
Wireless Connections
37,888
Items Checked Out
1,879,824
GRRL Staff
250
 
 
Computer Uses
43,379
Online Catalog Requests
676,032
Volunteers
147
 
 
 
 
 
 
 
 
 
 
Financial Analysis

Overall 2020 revenue was $9,954,874.45, an decrease of 1.89% over the 2018 figure of $10,146,501.63. The majority of the decrease in receipts was in Fines & Miscellaneous and Grant Revenue from the previous year. Total 2020 expenditures were $8,909,549.07, a decrease of -0.59% over the 2019 figure of $8,962,601.43. Expenditures in Automation and Services & Contracts were lower than the previous year. *Signatory Payments from Benton, Morrison, Sherberne, Stearns, Todd and Wright Counties.
2020 Successes
Throughout the region, strategic efforts were made to develop community partnerships and reach out to underserved populations. Highlights include: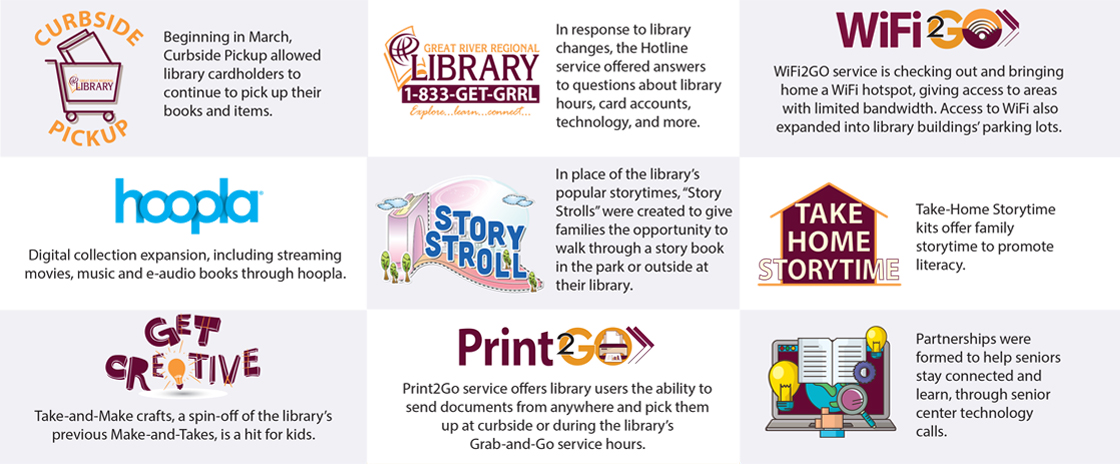 Stories of Hope
Our Most Popular/Circulating Adult Fiction Titles for 2020
Where the Crawdads Sing by Delia Owens
Blue Moon by Lee Child
The Giver of Stars by Jojo Moyes
A Minute to Midnight by David Baldacci
The Night Fire by Michael Connelly
American Dirt by Jeanine Cummins
The Silent Patient by Alex Michaelides
The Dutch House by Ann Patchett
Little Fires Everywhere by Celeste Ng
Becoming by Michelle Obama
The Guardians by John Grisham
Educated by Tara Westover
Talking to Strangers: What We Should Know About The People We Don't Know by Malcolm Gladwell
The Splendid and The Vile: A Saga of Churchill, Family, and Defiance During the Blitz by Erik Larson
Catch and Kill: Lies, Spies, and a Conspiracy to Protect Predators by Ronan Farrow
Untamed: by Glennon Doyle
Too Much and Never Enough: How My Family Created the World's Most Dangerous Man by Mary L. Trump
Donors & Contributions
We wish to extend sincere appreciation to individuals, corporations, foundations and organizations for their generous support.
Year-End Campaign
  
$61,731
Friends Of The Library
  
$8,053
Locally Growin'
  
$8,286
Summer Reading Regional
  
$9,698
Honor & Memorial Gifts
  
$3,340
Library Giving Day
  
$2,495
Scholar-Level Donations
  
$51,733
In-Kind Donations
  
$10,303
Special thank you to our Scholar-level ($1,000+) donors in 2020:
Ann and Mark Thelen
Bernie Berns
Blattner Energy
Central MN Noon Optimist Club
Denis Hynes
High Point Networks, LLC
Joanne and Chris Kudrna
Marksman Metal Company
Maryilyn Savage
Mary Eilers
Michael Bonnie
Melvin Zimmerman
St. Cloud Reading Room Society
Anonymous donors
We also want to acknowledge our Friends of the Library groups that made a Scholar-level significant impact in their local libraries:


Friends of the Annandale Library
Friends of the St. Cloud Library