Posted September 16, 2021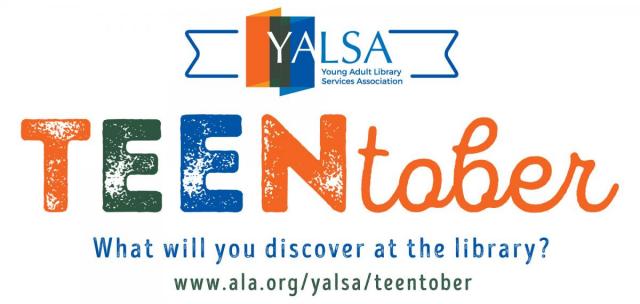 This October, Great River Regional Library is participating in the Young Adult Library Services Association's (YALSA) annual TeenTober celebration! 
This month-long event, developed by YALSA, strives to raise awareness of the importance of year-round teen services available at local libraries and the materials they can provide. Making teens aware of the services local libraries can offer them helps develop new skills and fuel their passions. TeenTober merges YALSA's successful and long-standing Teen Tech Week™ and Teen Read Week™ initiatives into one program. To celebrate teen services in libraries and enhance relationships with community partners.
The first TeenTober program, Glass on Glass Mosaic Class, will take place on Friday, October 1, at the Long Prairie Public Library. Artist Laura Ruprecht will be there to teach the basics of mosaics. Participants will create their own one-of-a-kind mosaic artwork by cutting, arranging, and adhering broken stained glass pieces in a frame. (Register for this mosaic class at this link) The library will collaborate with the City of Monticello to offer a Halloween-themed event, Haunted Zombie Barbies, on Thursday, October 14, at the Monticello Public Library. (Register for this event at this link)
Teens also have their own book clubs. For example, the Teen Graphic Novel Book Club meets at the St. Cloud Public Library on Monday, October 18 (sign up to attend at this link). At the Rockford Public Library, teens have an evening of book talk, pizza, and games on Tuesday, October 19 (sign up to attend at this link). So come hang out at your library!
Check out the teen event calendar for a full list of activities and more information about the TeenTober celebration. Also, for teen homework help, young adult book picks, and more, visit the GRRL Teen page. 
Find out more about YALSA and the TeenTober national initiative, visit www.ala.org/yalsa/teentober