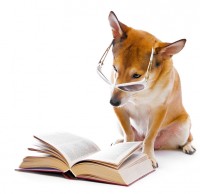 Animals make great listeners! Studies show that animals make wonderful reading companions because they help increase relaxation, lower blood pressure, listen attentively, do not judge, are less intimidating then peers and allow children to proceed at their own pace.
The Becker Public Library is proud to have a Reading Education Assistance Dog available for your young reader ages 5 to 12. Every month, Elsie visits the Becker library to listen to readers improve their fluency and comfort level reading aloud. And to make it even better, Elsie's handler is a skilled facilitator with 12 years of teaching experience!
Elsie will be in the Becker library on Thursday, Nov. 13 at 4:30 p.m. Registration is required. Please call the Becker library to register for your 15 minutes of one-on-one time with Elsie: 763.261.4454.