The stained glass window project that has been going on for 9 years is now complete. 
A meaningful and stunning addition has been made at the Annandale Public Library, branch of Great River Regional Library that completes the stained glass window project. The five window set is complete.
Pete Wilder started this series nine years ago, with the center sail boat scene for his wife Ellen. He and his daughter Judy worked with Michael's Stained Glass to design a window for her remembrance. Michael Lauer, the owner of Michael's Stained Glass Studio, drew up ideas for the other four windows in case other community members wanted to remember a loved one this way. By having some drawings to pick from it made it easier to stay with the lake theme. As they were made, each family found something meaningful in the design they chose.
For the last window, rather than using the final design, Judy worked with Pete to create the dancing loons.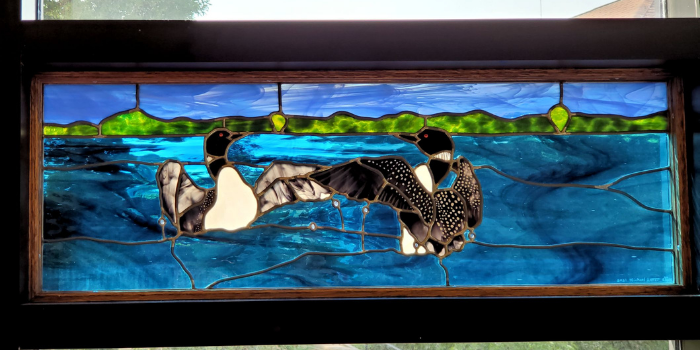 The stained glass windows are located in the children's alcove at the Annandale Library. The series contains the following:
The sailboat and kite - in remembrance of Ellen Wilder
The loon and the cabin - in remembrance of Connie Kuehn
The little boy fishing - in remembrance of Donna Pertl
The bald eagle - in remembrance of Jan Nelson
The dancing loons -  in remembrance of Pete Wilder