Consider sponsoring or donating a Book Club Kit for use by booklovers throughout GRRL if ...
...You or your company are looking for a unique way to support readers and literacy
...You are a member of a book club that is finished discussing a particular book
What is a Book Club Kit?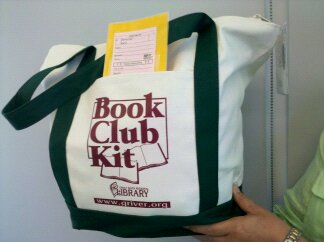 It's one-stop browsing for a book club all in one bag! Each kit contains:
10 copies of one title
1 unabridged audio recording (if available)
1 large print copy of the book (if available)
Discussion questions
Book club kits make it easy for booklovers to prepare for the next book club meeting without tracking down multiple copies of a book. GRRL has many fiction and non-fiction titles available, and kits can be reserved by anyone throughout GRRL and picked up at any branch.
Book club kits can be sponsored in two ways:
Donate $200 to exclusively sponsor a kit. With your donation and our book-buying discounts, we can purchase the complete kit components to launch 12 more community members on another thought-provoking conversation. You may suggest title purchases for your kit, which we'll accommodate if possible. In appreciation of your donation, we'll place a gift bookplate in the kit acknowledging your generosity that will be treasured by book lovers throughout Central Minnesota.
Donate your book club's previous reads. Has your book club found a great read worth sharing with other clubs? If so, donate your copies to GRRL create a new book club kit. Your donation of the print copies frees up funds for GRRL to purchase an unabridged audio recording and a large print copy of the book to complete a new kit, ensuring that book club members with vision or hearing problems can also participate.
GRRL Fund Development
1300 W. St. Germain
St. Cloud, MN 56301