Posted September 17, 2014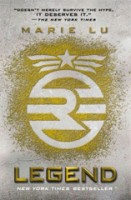 The Becker Public Library is starting a Teen Book Club. The book club will meet Monday, Oct. 20 at 7:00 p.m. The selection for the first discussion is "Legend," a romantic thriller set in a post-apocalyptic world, written by Marie Lu. Copies of the book selection are available at the Becker Library.
If you like to read and discuss your likes and dislikes about the books you read, the Teen Book Club may be right for you. Bring a friend and join us Monday, Oct. 20 for a good read, interesting discussion and a snack. Call the library for more details, 763.261.4454. This program is for ages 14-18. Registration required.