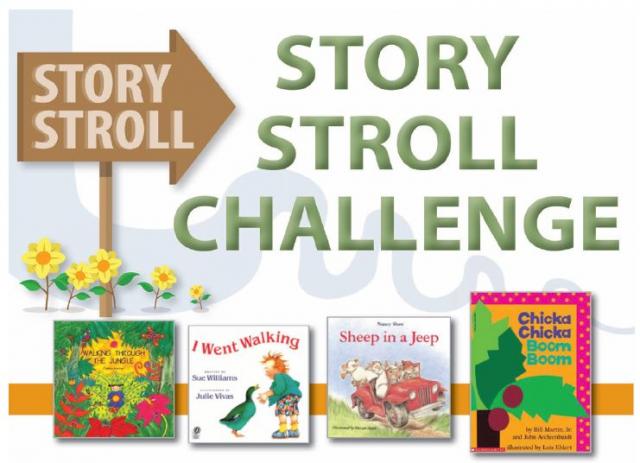 Let's Story Stroll through our parks! 
Sherburne County Parks and Recreation has formed a partnership with the City of Elk River, the City of Big Lake, the City of Becker, and the Great River Regional Library. Working together, they are offering a special challenge for the 2022 Summer Reading Program (SRP). They have created the experience for Sherburne county residents to enjoy taking a walk through their parks while immersing their families in literacy. As families stroll, they will go on a journey, reading page by page lined in the park. 
Story Strolls will be located in four locations: Woodland Trails Regional Park in Elk River, Grams Park in Zimmerman, Becker City Park in Becker, and Highline Park in Big Lake. Each location will have a deconstructed book along a trail. The pages of the book are placed in a stand and lined in page order, so visitors can enjoy reading while they stroll. 
The four featured children's books are "Chicka Chicka Boom Boom" by Bill Martin, John Archambault, and Lois Ehlert; "I Went Walking" by Sue Williams and Julie Vivas; "Sheep in a Jeep" by Nancy E. Shaw and Margot Apple; and "Walking Through the Jungle" by Julie Lacome. The books were chosen as they incorporate the SRP theme of "Read Beyond the Beaten Path." 
Each title is rotating. So visitors may go to all four parks for a different story experience. However, each park will have a turn with all of the titles, so visitors could visit the same park throughout the Summer Reading Program and see all four books. 
The story strolls will be available during the Summer Reading Program, early June through early August. 
Story Stroll Challenge: 
Complete all four story stroll locations to win a prize! Find the stamp at each story stroll, and stamp the boxes on your bookmark. Redeem your prize by showing your completed bookmark at the Big Lake, Becker, or Elk River Libraries. A special thank you to the Elk River Friends of the Library for supporting the prizes.
Park Locations:
Woodland Trails Regional Park - 20135 Elk Lake Road, Elk River, MN 55330
Grams Park - 26655 120th Street NW, Zimmerman, MN 55398
Becker City Park - 10362 County Road 23, Becker, MN 55308
Highline Park - 19200 Highline Drive, Big Lake, MN 55309
Learn more about the parks by visiting https://www.co.sherburne.mn.us/1232/Story-Stroll  or Facebook @SherCoParks