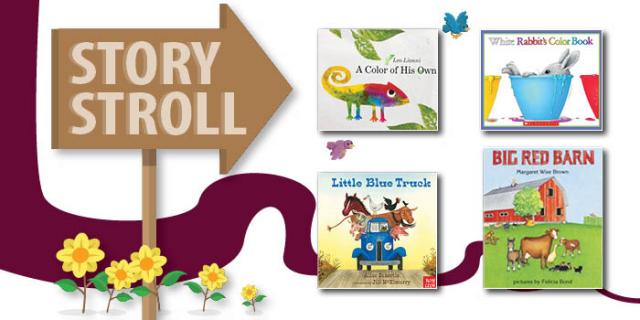 Let's Story Stroll through our parks! 
Sherburne County Parks and Recreation has formed a partnership with the City of Elk River and the Great River Regional Library, with the help of the Statewide Health Improvement Partnership (SHIP) grant opportunity. Working together, they are offering a special challenge for this year's Summer Reading Program (SRP). They have created the experience for Sherburne county residents to enjoy taking a walk through their parks while immersing their families in literacy. As families stroll, they will go on a journey, reading page by page lined in the park. 
Story Strolls will be located in four locations: Bridgeview Park in Big Lake, Grams Park in Zimmerman, Woodland Trails Regional Park in Elk River, and Oak Savanna Park in Becker. Each location will have a deconstructed book along a trail. The pages of the book are placed in a stand and lined in page order, so visitors can enjoy reading while they stroll. 
The four featured children's books are "A Color of His Own" by Leo Lionni, "Little Blue Truck" by Alice Schortle, "White Rabbit's Color Book" by Alan Baker, and "Big Red Barn" by Margaret Wise Brown. The books incorporate the SRP theme of "Reading Colors Your World" and were chosen by staff and library users. Staff looked through the GRRL catalog for big books (meaning books that were available in large display sizes), then a Facebook survey was posted for the selection of four books. 
Each title is rotating. So visitors may go to all four parks for a different story experience. However, each park will have a turn with all of the titles, so visitors could visit the same park throughout the Summer Reading Program and see all four books. 
The story strolls will be available during the Summer Reading Program, early June through early August. 
Story Stroll Challenge: 
Complete all four story stroll locations to win a prize! Find the stamp at each story stroll, and stamp the boxes on your bookmark. Redeem your prize by showing your completed bookmark at the Big Lake, Becker, or Elk River Libraries. Special thank you to the Elk River Friends of the Library for supporting the prizes.
Park Locations:
Bridgeview - 20711 187th Ave. NW, Big Lake, MN 55309
Grams Park - 26655 120th Street NW, Zimmerman, MN 55398
Woodland Trails Regional Park - 20135 Elk Lake Road, Elk River, MN 55330
Oak Savanna - 10775 27th Ave. SE, Becker, MN 55309
Learn more about the parks by visiting https://www.co.sherburne.mn.us/604/Parks-Recreation or Facebook @SherCoParks
See Great River Regional Library's Board of Trustees President and Sherburne County Commissioner Lisa Fobbe talk about the Story Strolls here.