April marks National Poetry Month, and Great River Regional Library is partnering with Lyricality to host Read Poetry 2021.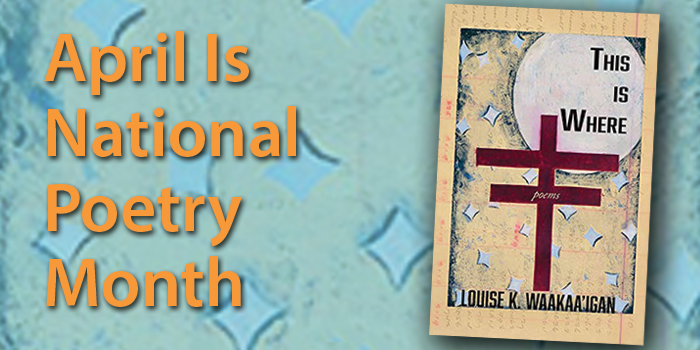 Read Poetry Central Minnesota, a One Book, Four Counties community read program is encouraging everyone in Sherburne, Benton, Stearns, and Wright counties to read "This is Where: poems" by Louise K. Waakaa'igan January through April, 2021. 

In this eagerly anticipated volume Anishinaabekwe poet Louise K. Waakaa'igan lets us hear the "winds of flutes" even as she writes from "concrete plains" of prison. In the tradition of political prisoners Leonard Peltier and Marilyn Buck, this poet lets word fly through and beyond prison walls. A multilayered origin story, This is Where refuses to duck the contradictions of time, place, belonging. She writes, "I'm from women with the same last name / and a father/ none of us knew."–Introduction by Becky Thompson.

This program is designed to help us build a stronger, healthier community through meaningful connection. This is Where!
Come together as Central Minnesotans to appreciate poetry and support Minnesotan poets. "This is Where: poems" is a collection of poems written by Louise K. Waakaa'igan during her incarceration at the Shakopee Correctional Institution in Minnesota. The time there has allowed her to put her experiences to words--for her writing and for her own understanding and healing.
Place a hold on this GRRL book by clicking here.
Get your reading and discussion guide by clicking here.
an Evening with Louise K. Waakaa'igan
April 8, 2021, at 7 pm
Join Louise K. Waakaa'igan and guest poets Heid Erdrich, Su Hwang, and Paige Riehl via Zoom and Facebook Live for a special evening to read poems and talk about the important work poetry does to liberate and connect us. Also joining the conversation will be central Minnesota Somali poets Abdi Mahad, Anisa Hagi-Mohammed, and Halima Hagi-Mohammed. Register in advance for this meeting: https://us02web.zoom.us/meeting/register/tZYld-iurzkiHtfhmXKqzWdZlUfPqDTOQxYq
After registering, you will receive a confirmation email containing information about joining the meeting.