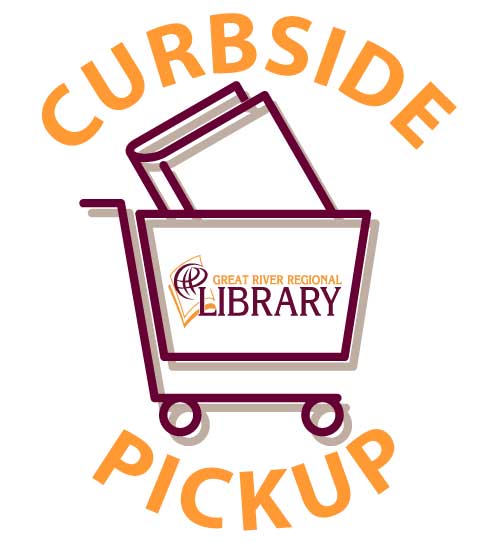 Great River Regional Library buildings may be closed, but the library continues to offer services!
Great River Regional Library now offers curbside service, so you can continue borrowing from your local library. Request the items that you want to borrow, then when your request is ready you can come to your library to pick them up. To request an item (book, movie, CD, or kit), use the online catalog or call the library's hotline at 1-833-GET-GRRL (1-833-438-4775). The hotline hours are 10:00 a.m. to 9:00 p.m. Monday through Thursday, 10:00 a.m. to 6:00 p.m. on Friday, and 10:00 a.m. to 5:00 p.m. on Saturday. Once your request is placed and ready for you to pick up at your local library, you will receive an email or phone call. Remember to look on our website at griver.org/locations to see your library's curbside service hours. Signs will be posted outside the library to indicate where you should wait. You may choose to call the library once you arrive or call ahead for library staff to bring your items out to pick up.
Library users have taken to social media saying, "These bookworms couldn't be happier!" and expressing they are glad to finally pick up their books on hold. Find us on Instagram and Facebook to share your library stories! Just last week there were 7,950 checkouts! Curbside service continues to grow in popularity along with our online resources.
Items may now be returned, too. During the library's curbside hours, you may return your books and other library items to the book drops. Check our FAQ page for more details.