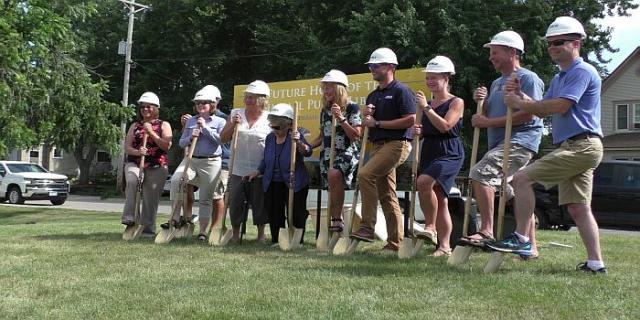 The Kimball Library Building Committee held its groundbreaking event for the new Kimball Public Library on Sunday, August 11, 2019 at the building site. This event also honored former librarian and the library project's first major donor Lorraine Gregory. Not only is this a significant event in the community's history, the new library groundbreaking celebrates 50 years of a Great River Regional Library branch in the community.
On October 25, 2018, the task force announced it raised the local match of $560,602 needed to apply for a state library construction grant.  In December of 2018, the City of Kimball was awarded a $439,511.97 Library Construction Grant from the Minnesota Department of Education for a new building. The Library Construction Grant was a competitive dollar-for-dollar matching grant program providing public libraries with funding for construction, renovation and improvement projects that result in more accessible and energy efficient library facilities.
Since January, the Kimball Library Building Committee, made up of representatives from the City of Kimball, the Great River Regional Library, the Kimball Area Friends of the Library, and other community members, have worked through the end grant agreement with the State of Minnesota, finalized building plans working with Rice Companies and Bentz, Thompson Rietow (BTR) and Westwood Professional Services that meet the state's requirement for B3 Guidelines.  They have also worked on the project budgeting with city representatives and organized the much-anticipated groundbreaking event. 
The groundbreaking event was a big success, gathering nearly 100 Kimball residents to celebrate. What wrapped up the event so well was Executive Director Karen Pundsack quoting Albert Einstein, "The only thing you absolutely have to know is the location of the library."
To learn more or to be added to a Kimball Public Library Project update email list, visit www.kimball-library.org.