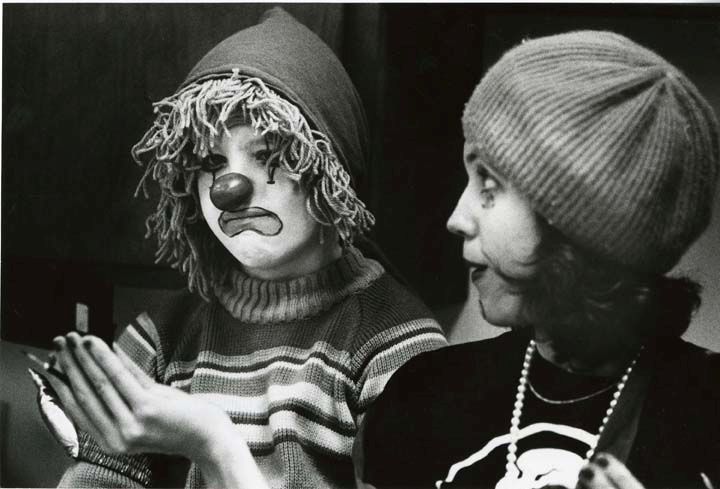 We asked you to tell us a story in 33 words or less ... and many people did!
Short Story Writing Month (ShoStoWriMo) was observed in December, and we're pleased to share the tales inspired by this photo, courtesy of the Stearns History Museum.
Enjoy!
The clown and a person with a dragon shirt on are looking at a strange creature. The creature is a little turtle looking monster. They are scared because they are holding the creature.

- Dominic M., Richmond
The girl is holding a little shirt for a baby. They clown likes the baby shirt. They are going to give the shirt to the baby, and the mom will put it on.

Mia L., Richmond
Olio the clown was pulled into the circus although he didn't want to. He had being the traveling Bolini Circus now for two years and hadn't a friend till Lealy came in.

- Garrett S., Grey Eagle
Bob the clown was very sad. He had just his life savings he had earned working hard for many years. Lisa told him, "Not everything's lost. You just need hope."

-Yeraizaed T., Waite Park
She's dressing up as a clown and one is already a clown. She's saying a clown biked with one wheel. The clown is happy about doing something awesome. She is feeling happy.

-Oliver K., Richmond
Giorgio had to find his friend, Gaston. He gave all his money in hopes of revealing his whereabouts. But the lady ran with the check and poor Giorgio never saw his friend again.

-Katelyn S., Grey Eagle
"How could I have fallen off the pony? I've done that trick hundreds of times," wailed Danny. "But Danny, look at the audience," cried Leta. "They are all laughing! You were a success!"

- Jan B., Annandale
My husband wasn't happy with me. He put on his pouty face and acted like a baby. "Give me the car keys now," I said. The clown was in no shape to drive.

- Sharon V., Delano
Once again, Tommy the clown loses the bet that his large bowl of spaghetti with meatballs is for eating, not wearing. Big sister Priscilla insists he pay up.

Susan W., Delano
Curly hair in despair,

No longer are we a pair.

Sad and feeling all alone,

My soul doth ache, my friend is gone.

Love left she

My heart to see,

Now and forevermore.

-David H., Delano
The fake cakey smiles of clown have disturbed audiences for centuries, so it was naturally frowned upon when the young clown intern showed up to work one Monday morning in a glum mood.

-Stephanie A., Delano
I know you think I'm not fun anymore, but
it's hard to take our relationship seriously when you wear that red nose.
Can we both try to be more upbeat in 2019?
- Marsha O., Elk River
 
There was just something about him; Karen couldn't take her eyes off.  Was it the dazzling good looks?  The cute little car?  Nope.  It was the debt-free library account.
David W., Waite Park
 
You are seen. The image that you put forward and the actions that you take may influence generations to come. Make it count. Put on a happy face.
Margery A., Grey Eagle 
 
Chester Clown longingly looks at the face paint Candy received for Christmas.  The excitement Candy has is contagious. Chester is looking for an opportunity to turn his frown upside down.
- Jeremy H., St. Cloud 
 
Joan and Colette were sisters. When they became orphans, they racked their brains. They put on shows. Colette was a clown. Joan booked performances. Joined by bonds of love they traveled worldwide.
Margaret M., Long Prairie 
 
I believed in her. She was a professional cosmetologist. I agreed to a makeover and she promised that I would be an absolute doll. Looking in the mirror I see Raggedy Ann.
 - Connie D., St. Cloud 
 
Peggy was appalled and disgusted that Deb would attend their  Class of 1971 reunion still dressed as a clown. That was her prom outfit for crying out loud!
 - Debra B., Becker 
 
"Smile!", Millie told Paul, reaching over to squeeze his cheeks. She stopped halfway. "I know, you play a grumpy," she whispered, "but I like you. Smile!" She walked away. Paul smiled.
- Aurora H., Long Prairie 
 
Even though Janice now had proof that one in the hand was worth two in the bush, Louis wasn't swayed. "Well," said Janice, "this might be the deal breaker." Louis shrugged. "Whatever."
- Jennifer H., Upsala 
 
In each family, there's always gotta be at least one clown. And that is you, little Mikey. And will you please, stop honking that darn horn.
- Pat H.. Waite Park 
 
She held the mirror aloft so surely.
"What do you see?"
My eyes fought their instructions and were summoned back to her magnetic
face.
"I see us. Here. Together."
- Annie C., Staples 
 
 

Harry stared, a painted frown on his face. He did NOT want to eat the frozen, raw fish. Holding the object of his attention, Mimi smirked. She would win either way.
- Gabriella R., Big Lake 
 
Why so down clown? Your infectious smile has the power to change peoples lives. Unlock your gift. You can be a beacon of light for others in darkness. It's up to you.
 - Kyle S., Albany 
 
So. Many. Characters. Women will play. Sister, daughter, friend. Lover, mother, widow. Standing before her image. Echoed in the mirror. Evading her eyes. Thinks: please just once. Don't let me be the clown.
- Karl M., Clearwater 
 
She knew she should never have lied. Lies had never served her well before. But now here she was, in an empty ballroom waiting for the guests to arrive and hating the decorations.
- John L., St. Cloud 
 
OK, so your date didn't go well.  I told you he could be a bit of a clown, but you didn't have to dress like a clown.  You scared him.
- Lois R., Albany 
 
How can he not see? We can not be this clown and me. I, a mime, I can not speak much less laugh, and he is a clown, feeding on, needing laughter.
- Sarah P., Big Lake 
Did you see where the Clowns went?

A clown went for a walk!  And seen a Mime.

The Mime did not say a Word!

The End!

- Joseph C.
 
I was just trying to help. Bobo was experiencing a sugar low. I offered him a piece of candy. It turned out he hates Warheads. I guess no good deed goes unpunished.
- Jo K., Monticello