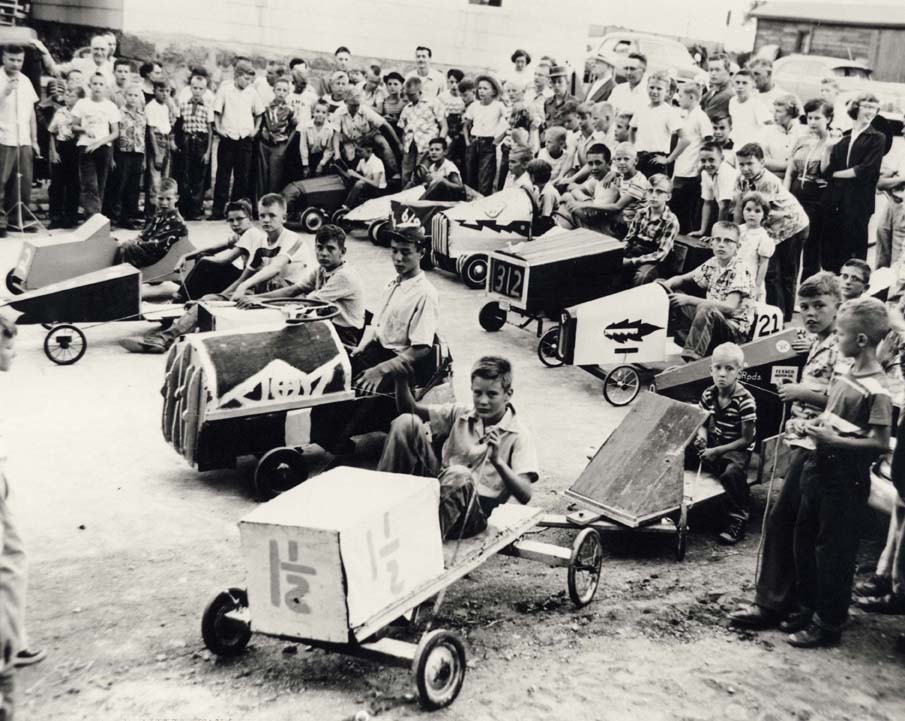 We asked you to tell a story in 32 words or less ... and you did!
Short Story Writing Month, or ShoStoWriMo, has come to a close, and we're pleased to share the prose (and maybe even a poem or two) inspired by the above photo, courtesy of the Stearns History Museum.
Enjoy!
An assembly of adolescents and adults anxiously await the Annual Homemade Derby Race. Each young athlete has adjusted axels, accepted advice and anticipates achieving the goal to be first across the finish line.

       - Dianne A.
In 1993, Bill and Bob watched a go-cart race. Cart #17 crossed the finish line first! The winner got a trophy that looked like a go-cart. Bill and Bob liked the race.

       -Tucker and Josie H.
With 6 quarters? Impossible they said! Tickets are $2. With a box from the trash and some junkyard treasure, I'm in this race. Proudly named for the price I paid! YES!!!

       - Mike D.
As soon as Bob gets his 1 1/2 under control, we will get this parade going.

       -Stanley W. 
Everyone in town came to watch the races and you could feel the excitement in the air.  A legend would be born today and I was going to be that legend.

       - Lois R.
I may not look outwardly excited. Inside I'm raring to race. I built the soapbox car myself; Dad's somewhere in the crowd. This is one for the record books.

       -Colleen w. 
It was the fall of 1963,  the year JFK was assassinated and Beatlemania began. More important to the small town Fort William boys was the Fall Fair Soap Box Derby.

       -Dave W. 
That's how it began-
My quest for speed.
The world's a blur,
In my wheeled steed!
My friends around me,
What more'd I need?
At the finish line-
Me in the lead!

         - Lauren F. 
Grandpa helped me finish my racer.
Dad said he'd help.
Dad didn't come home.
Dad's shoes were big.
I wore them anyway.
Grandpa said i'd have to fill them.
I'll sure try.

       - Lauren F. 
It's the annual Boy Scout dragster derby! People lined the streets waiting for the race to start. The racers were excited but also nervous. People placed their bets and 3..2..1 off they go!

       - Emily P. 
"Races are stupid," Amos said. "Competition breeds cruelty and pain. Spectatorship is mass hypnosis. Humans are ridiculous."

His brother, lil Sweenie, replied, "Hey Amos, get IN the soap box, not ON it".

       - Scott M. 
One girl, behind the legion of boys, uncaptured by the photographer, wearing goggles and a cape, at the sound of the gun, accelerated, screeched, swerved, zoomed, flew past them all, and won.

       - Scott M. 
A wheel fell off halfway down the hill, then another one. I didn't think I'd finish the run. I was right. I wore the cast for three months. I'll do better next year.

       - Sharon V. 
One day, a long time ago, they made very, very old cars. They got cars and raced every day and played! They loved it! One day, John won. He was very happy!

       - Abbey M.
The racers were ready. The race was on. They were off like a flash, pedaling their little feet, trying to be the fastest, their paint jobs firey and stylish, to win it.

       - Riley M.
Ready for the first local soapbox derby. The racers built, the populace assembled, but something is missing. Here in Kansas, flattest state in the country, the nearest hill is several miles away.

       - Carol M. 
The sun shines brightly on first-day students of the new Delano Driving Academy, preschool edition. Budding hotrodders hone their skills as onlookers cheer them on with typical (and exuberant) Minnesota enthusiasm. 

       - Susan W.
Mom sighed. "I wanted to race when I was young. Girls weren't allowed then, but I built a racer anyway and flew down the hill behind the house. So fast, all alone."

       - Sharon V.
It looks like the 312 car is going to win it all.

       - Oliver B.
After the field had been narrowed down to just a few riders, the remaining riders sat worrying as to whether their boxes would combust in bubbles. 

       - Nicole B.
I slipped on a slimy cookie and broke my tire. Then I ran into someone!

       - Lincoln B.