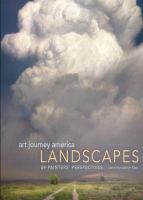 Great River Regional Library's New, Best & Fun page provides reading lists to help you explore award-winning titles, find read-alikes for favorite books or offer "Year in Reading" challenges to help you read outside your norm.
Art is the theme for April 2019. Art helps paint a picture of our lives through the ages. Explore it, and stories inspired by it in this month's "Year in Reading" challenge with these titles.
"Art Journey American Landscapes: 89 Painters' Perspectives" by Kathryn Kipp.
Showcasing the work of top contemporary American master artists of our day, this book features landscapes from all across the country--east and west, north and south--rendered in watercolour, oil, acrylic, pastel and mixed media.
"Real Artists Don't Starve: Timeless Strategies For Thriving In The New Creative Age" by Jeff Goins
You don't have to choose between a creative life and a prosperous one. Goins believes we live in an era of unprecedented opportunity, and invites readers to drop the myths and flat-out lies that have been drilled into them. Real artists don't starve-- they thrive. And you can, too.
"The Art Forger: A Novel" by Barbara A. Shapiro
Boston painter Claire Roth has survived financially by painting reproductions, so when influential gallery owner Aiden Markel arrives with a bizarre proposal--her own show if she will forge a copy of a Degas, one of the pictures stolen from the Isabella Stewart Gardner Museum--she says yes. As she works, Claire and Aiden become lovers, but she doesn't tell him about her discovery that the stolen Degas is itself a copy. This knowledge is Claire's lifeline when the finished forgery is discovered, Aiden and then Claire are both arrested, and only she can save them.