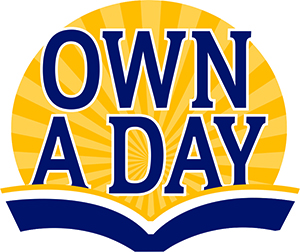 It's really the perfect gift for the library lover in your life, or even yourself: a day at Great River Regional Library.
"Own A Day" is a new, easy and fun way to support all the great work being done at your local library.
How does it work? For $100, you can "buy" any day of the year. In return, you'll get:
recognition at the library branch of your choice
a certificate of appreciation
a mention of your gift and honoree on the front page of griver.org
"The 'Own A Day' project provides an opportunity to celebrate a special person or day, and show your library support," says Karen Pundsack, Executive Director.
Proceeds will be used to buy library books, digital resources and get the word out about library services.
Want to "Own A Day" at Great River? Check it out here, or stop by your local library to learn more.
Great River Regional Library (GRRL) provides library services at 32 public libraries in Benton, Morrison, Sherburne, Stearns, Todd and Wright Counties. GRRL supplies the residents of Central Minnesota with nearly 1 million books, CDs and DVDs, 250 public computers, programming and information services.