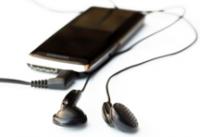 eBooks and eAudiobooks are now available through the new Great River Regional Library (GRRL) Digital Library. The digital library is accessible to you from home and library free of charge with your GRRL library card!
griver.overdrive.com
Check out eBooks and eAudiobooks from griver.overdrive.com. You may go through the GRRL library catalog at griver.org and click on the Digital Library tab or go directly to griver.overdrive.com and enter your library card number and PIN to access e-resources.
• Digital books will loan out in almost the same way as paper books
• A digital loan can be for varied lengths of time from 7-21 days depending on title, format and patron choice
• When a digital copy is loaned, nobody else can borrow it
• You may place up to three 'holds' on items you want that are already checked out to another patron
• You may check out six titles (a combination of eBooks and eAudiobooks) at a given time
• Titles cannot be renewed, but they can be checked out again if they are available when the checkout expires
• Loans are available to patrons who do not have fines or charges on their account, so any fines or charges must be paid prior to using this service
New titles will be added almost every day, with a focus on new releases. In addition, approximately 15,000 public domain titles including classics by Mark Twain, Charles Dickens, Jane Austen, and Sir Arthur Conan Doyle are available as eBooks and do not count as library checkouts.
Thanks to the St. Cloud Friends of the Library who donated $1,000 to help the digital collection grow.
OverDrive
GRRL is purchasing items for its digital library through OverDrive, a company that provides digital services to many libraries. The first time you check out digital materials you will need to download free software at the Quick Start Guide page on the GRRL website.
OverDrive provides "how-to" instructions. It also lists compatible eBook devices and compatible eAudiobook devices. Please consult the OverDrive compatible devices list before making a purchase to use the new digital library.