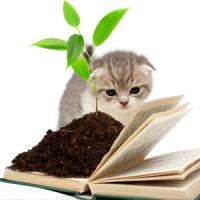 Gardeners are invited to bring a bag lunch and join Master Gardeners the third Wednesday of each month from noon to 1 p.m. at the Rockford Public Library. Katie Campbell and Paula Savage have been trained by University of Minnesota staff and continue to update their knowledge with the Wright County Master Gardeners. In return for their training, they volunteer to teach others in the community all about gardening. Essential gardening tasks for the month, weather challenges, and answering audience questions fill the hour. New gardeners as well as experienced ones are welcome. June 15 and July 20 are the next two dates to meet the gardeners—please join us.
Rockford also has a local writers' group that is seeking new members. Members encourage one another to write, choosing a topic each month that will be written up and shared with the group. The second Wednesday at 1 p.m. they offer one another admiration, encouragement, humor, and suggestions for changes. Whether you are just starting to write down stories of your day (or life!) or have always loved "scribbling," whether young or old, male or female, all writers are welcome! Upcoming dates include June 8, July 13, Aug. 10, Sept. 14, Oct. 12, and Nov. 9.
Call the Rockford Public Library for more information, 762.477.4216.