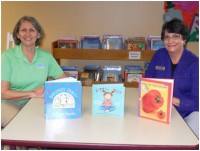 Parents now have more choices for children's books about healthy eating and staying active.
Wright County Public Health has donated the children's books to Great River Regional Library using Statewide Health Improvement Program grant funds. The 15-title collection includes books such as "Barnyard Dance," about a farm animal hoedown, and "How Are Your Peeling?" with whimsical fruits and vegetables exhibiting their "natural personalities."
Copies of each book will be housed at the Howard Lake and Buffalo public libraries. Like all GRRL materials, they will be available to individuals across the region.
The books are meant to help child care providers extend their knowledge, as well as being a fun resource for parents and others in the community, according to Susan DeMars, health promotion coordinator for Wright County Public Health. DeMars, left, is photographed with Amy Wittmann, Buffalo library services coordinator. Titles are:
Apple Farmer Annie by Monica Wellington
Barnyard Dance by Sandra Boynton
Boom Chicka Rock by John Archambault
Eating The Alphabet: Fruits and vegetable from A to Z by Lois Ehlert
The Giant Carrot by Jan Peck
Growing Colors by Bruce McMillan
Growing Vegetable Soup by Lois Ehlert
How Are You Peeling?: Foods with moods by Saxton Freymann
How Groundhog's Garden Grew by Lynne Cherry
I Eat Fruit by Hannah Tofts
Little Yoga: A toddler's first book of yoga by Rebecca Whitford
Lunch by Denise Fleming
Market Day: A story told with folk art by Lois Ehlert
My Five Senses by Aliki
Shake My Sillies Out by Raffi, Bert and Bonnie Simpson