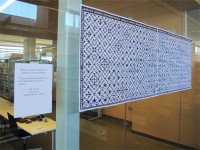 What's a nine-letter word for fun? Crossword! 
To add to the fun and games of the Summer Reading Program, St. Cloud Public Library has the World's Largest Crossword puzzle for the community to fill in. You'll find it taped on the wall of the glass cubicle close to the upstairs help desk. The clue book is available at the desk. Clues across go all the way to 24718 ("Having a snooze").
Two of six panels are currently posted. Each week during the Summer Reading Program we will post another. Bring your coffee, your puzzle pencil, and spend these hot summer days at the library filling out the crossword puzzle.