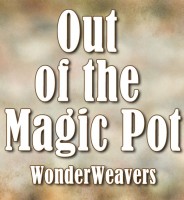 Join us for a fun morning at the Buffalo Farmer's Market located near the Buffalo Cinema Theater in downtown Buffalo on Saturday, Aug. 31, from 8:30 a.m. until 12:00 noon. The Friends of the Buffalo Library will have a booth at the market selling books, children's books, cook books and gardening books at bargain prices.
From 10:00 a.m. to 10:45 a.m., the WonderWeavers will present "Out of the Magic Pot." Come help these fun story tellers mix up a story stew as they pull ingredients out of their magic cooking pot. You will leave with a recipe that will have your imaginations dancing with delight. As a special treat, Colleen and Tina will leave you with room for dessert and a few recipes for where to find fun on your library shelves.
This event is sponsored by Minnesota's Arts and Cultural Heritage Fund and the Friends of the Buffalo Library. Please call the library staff for more information, 763.682.2753.