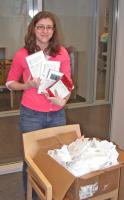 Great River Regional Library's 2011 Winter Reading Program has ended with the drawing of lucky prize winners. Patron Services Specialist Beth Ringsmuth-Stolpman selected the winners from almost 5,000 slips (see photo).
Participation Grows
The program grows every year. In 2009, approximately 2,000 patrons registered for the program. In 2010, 3,000 registered, and in 2011, 3,787 patrons registered. Even more surprising, in 2010, 3,070 reading slips were returned (5 books per slip), and in 2011, 4,920 slips were returned. That's at least 9,250 more books read during this year's program than last year's.
"Snow is Falling, Books are Calling" mugs and bookbags were the branch prizes. A Playaway audiobook, two mp3 players and two Barnes & Noble NOOK e-readers were regional grand prizes. All are compatible with GRRL's eBook and eAudiobook vendor's products.
Regional grand prize winners
Dawn Denn, Richmond (playaway audiobook)
Andrea Blake, Swanville (SansaClip mp3 player)
Bridgett Corbet, Pierz (SansaClip mp3 player)
Haily Bundy, Paynesville (NOOK eReader)
Sean Wikman, Cokato (NOOK eReader)
"The Winter Reading Program was a wonderful thing for our family," Bridgett Corbett said when contacted. "We had five family members who participated and we made it into a competition. We did a lot of reading!"
Prizes were purchased from gift funds.