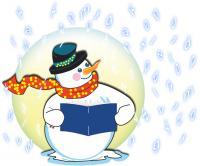 Regional grand prize winners for the Great River Regional Library (GRRL) Winter Reading Program, "A Reading Wonderland," have been announced. The winners were:
  Cris Kuhlman, Grey Eagle
  Kelly Neu, Melrose
  Abbie Kunze, Buffalo
  Jean Beckel, Cold Spring
  Rev. Doris Dodds, Paynesville
  Terri Hamilton, Elk River
  Pat Lintner, Little Falls
  Dolores Wolbeck, Grey Eagle
Each winner will receive a $25 gift card.
Readers were encouraged to keep track of how many books they read in January and February. For every five books completed, they could submit a drawing slip for program prizes. About 3,000 people registered for this year's program region-wide, 1,000 more than last year. Prizes at the branch libraries included mugs and gift baskets.
Prizes were purchased through a special gift fund supported by activities of the Friends of the St. Cloud Public Library.