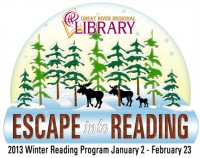 "Escape Into Reading" in 2013 with the Great River Regional Library Winter Reading Program. The program is for teens and adults and continues Jan. 2 through Feb. 23. You can make any kind of escape you want. You can escape into the arms of a new lover, escape your job, escape the cold, you can even escape the 21st Century and travel through time. Just use your Great River Regional Library card to register for the Winter Reading Program. Check out some books (or audiobooks) and keep track of your reading using the drawing slips provided. Drawing slips can be used to win prizes such as mugs, blankets, and Sony eReaders compatible with our Digital Library.
Visit your local library to register or register online. And visit the New, Best and Fun page to find new books to enjoy. Here are some of the lists to browse.
IMPAC Dublin Literary Award
  Books nominated by public librarians from all over the world.
Staff Picks
  Books and media selected by staff from around the region.
Large Print Books
  Books printed with larger type for those who have difficulty reading the regular editions .