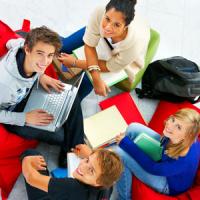 Teens: Here's a chance for you to show your creativity, make a little money for your library and pick up a neat prize for yourself.
Teens ages 13-18 have until April 18 to submit one-to-three-minute videos to the American Library Association's "Why I Need My Library" teen video contest. The contest asks teens to create short, original videos on why they think libraries are needed now more than ever. You don't have to work alone; teens can work in groups of up to six.
Winning teens will select their school or public library as the recipient of cash prizes. There is a total of $20,000 at stake, with $3,000 going to each of two grand prize winners in age categories 13-15 and 16-18. In addition, each member of the winning group will receive a $50 gift card to an online bookseller.
For more information about contest rules, as well as tips and resources on how to make a video, visit the ALA's Why I Need My Library link.