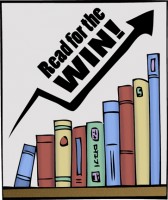 The weather may be hot, but we've got lots of cool things going on at the Long Prairie library this summer. Check out all the activities below:
Monday, June 13-Saturday, Aug. 13, Read for the Win during the Summer Reading Program! We have programs for all ages 0-12th grade. And, we have lots of fun guessing games AND lots of prizes! The more you read, the more chances you have to win a PRIZE!
Tuesday, June 14, 11:00-11:45 a.m., Family Comedy Magic Show with Nathan Stockwell. Be prepared to LAUGH! All ages welcome.
Preschool Story Times: Tuesdays, June 14 to Aug. 9. For ages 3-6. Siblings welcome!
Tuesday, June 28, 11:00-12:00 noon, Zentangle Workshop. Zentangles are easy to learn! For ages 8 and up. Class size is 15 and registration is required.
Friends of the Library Used Book Sale, Friday and Saturday June 17 & 18, 9:00 a.m. to 5:00 p.m. Stock up on great bargains for all your beach and cabin reading. The sale will take place across the street from the library.Check out all the other fun events in town during Prairie Days!
Tuesday, July 12, 11:00 a.m. to 12:00 noon, Bruce the Bug Guy! Bruce will be back at the library with lots of cool, creepy crawlers! All ages welcome.
Wednesday, Aug. 10, 1:00 to 2:00 p.m., The Great Brodini! A fast-paced, interactive magic show with LOTS of audience participation. All ages welcome.
Tuesday, Aug. 16, 11:00 a.m. to 12:30 p.m., Mixed Media Art--For Adults! Participants will transform a rain gauge into a work of art. Class size is 10 and registration is required.