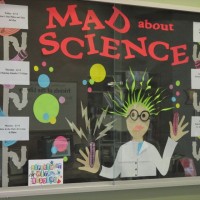 The St. Michael Public Library is gearing up for the Summer Reading Program (SRP) and this year's science theme: "Experiment With Reading!"
Our crazy mad scientist display was created by one of our clever volunteers, Judith Stodieck. The 3-dimensional bulletin board shows our mad scientist in her lab surrounded by many of the upcoming events sure to entertain library goers of all ages. The display will rotate the events so all library visitors will be able to see the next event of the SRP. At least one event will take place at the St. Michael library every week of the program. The SRP begins June 9 and runs through Aug. 9. Prizes will be awarded throughout the summer to kids who participate. The teen program, "Read, Think, React," also begins June 9 and will offer prizes throughout the summer as well.
Prizes are provided generously by the St. Michael-Albertville-Hanover Friends of the Library. Stop in for more information!