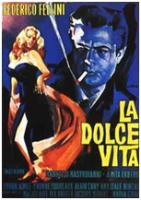 How much can spectacular dresses add to a movie? Would the Trevi Fountain scene in "La Dolce Vita" be less memorable without Anita Ekberg's stunning off –the-shoulder black dress? Would Vivien Leigh's Scarlett O'Hara be somehow diminished without her heavy green velvet and cherry red costuming?
Those are favorites of ours. Here's a list of other dresses we like. They all feature in movies available for loan at Great River Regional Library. If you have favorite movie dresses, go to our Facebook page and tell us about them.
Our List
Julie Andrews's wedding dress as Maria from "The Sound of Music"
As a group, everything Maggie Cheung wore in "I'm in the Mood for Love"
Rosemary Clooney's full length black sleeveless dress from "White Christmas"
Carrie Fisher's high necked white dress as Princess Leia in "Star Wars"
Megan Follows's puffed sleeve dress from "Anne of Green Gables"
Judy Garland's blue checked country girl's dress as Dorothy in "The Wizard of Oz"
Jennifer Grey's pink dress in "Dirty Dancing"
Audrey Hepburn's sparkly ball dress from the end of "My Fair Lady"
Audrey Hepburn's black and white Ascot dress from "My Fair Lady"
Audrey Hepburn's full length black sleeveless dress in "Breakfast at Tiffany's"
Grace Kelly's ice-blue gown in "To Catch a Thief"
Deborah Kerr's bronze hoop dress from "The King and I"
Keira Knightley's emerald green dress in "Atonement"
Marilyn Monroe's white halter dress in "The Seven Year Itch" (made famous by the scene in which it blows upward as she stands over a subway grate)
Sarah Jessica Parker's wedding dress from "Sex and the City"
Julia Roberts's red formal cress from "Pretty Woman"
Ginger Rogers's over-the-top feather dress from "Top Hat"