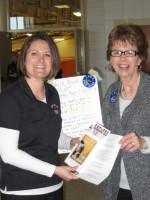 World Book Night was celebrated on Wednesday, April 23. The goal for this year was to give away 500,000 books free of charge. Each book giver received 20 copies to hand out, so the volunteer effort must have included close to 25,000 individuals.
At Great River Region Library, 58 volunteers hit the streets, including about a dozen from the staff ranks. From Delano to Staples they put books in the hands of strangers who might or might not have been booklovers already.
Thirty titles were available, plus Spanish editions of two. Copies of the books are all on the library catalog. We've put a copy of the list on the New, Best & Fun page you'll find tabbed from our catalog.
The list includes nonfiction and fiction, biography and mystery, classic and contemporary. From The Tender Bar to The House On Mango Street, from Bossypants to Me Talk Pretty One Day, you can find books to enjoy.
This list is a good place to find your next book or a book from a genre you haven't yet explored.
Photo: Julie Strobl, left, received a book from volunteer Jeanie Pilarski at the Delano High School Tiger Activity Center. Pilarski said there was lots going on in the activity center. "People were surprised to be asked to receive a book. They were very receptive and wanted to know about World Book Night."