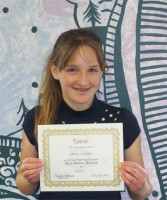 Sophie Houghton was Waite Park Public Library's Blue Ribbon Reader winner this summer.
Children and teens at each of Great River Regional Library's 32 locations were invited to take part in an essay writing contest. They were asked to answer the question: Why do you love to read? Sophie's essay was selected from the Waite Park entries. Her name was then put in with the names of winners from the 31 other library locations in which Great River Regional Library provides services. The regional winner, from Grey Eagle, received a blue ribbon, a certificate, and four tickets to the Minnesota State Fair provided by CRPSLA, the Council of Regional Public Library System Administrators.
Sophie wrote, "When I grow up I want to be an author so I can share my stories with the world. Books are as different as people are. That's why I love reading."