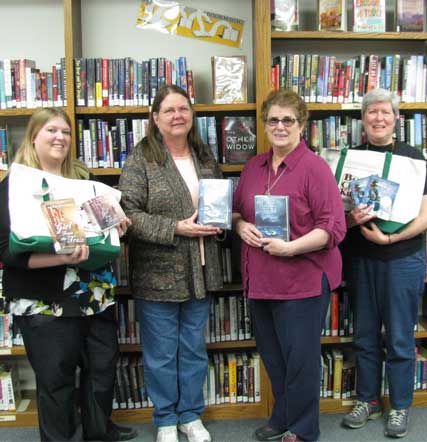 Friends of the Upsala Public Library have graciously funded three book kits for Great River Regional Library. The kits are Breaking Stalin's Nose by Eugene Yelchin, The Girl From the Train by Irma Joubert and Salt to the Sea by Ruta Sepetys.    
Breaking Stalin's Nose follows a young boy growing up in Stalinist Russia who learns what Communism means to his family, his neighbors and his country. The Girl From the Train tells a story from World War II in which a man saves an orphaned Jewish girl, housing her in his home and his heart. In Salt to the Sea, four refugees in Nazi-occupied territory must evacuate on the ill-fated Wilhelm Gustloff, the sinking of which is the deadliest maritime disaster in history.
The book kits are available for checkout at any branch of Great River Regional Library. Each kit contains 10 copies of the title, the book on compact disc and a large print copy (when available). 
GRRL carries over 400 different book club kits for adults, young adults, children and babies.
Pictured (L to R) Vanessa Wielenberg – Friends secretary, Wanda Erickson – GRRL~Upsala LSC, Pam Schoon – Friends president, and Jan Gerth – GRRL~Upsala Library Assistant are pleased to announce the donation of three new book club kits to the GRRL system.