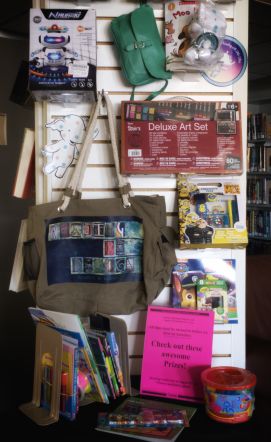 Great River Regional Library's Summer Reading Program ends on Saturday, August 12, and Paynesville participants will need to submit their reading slips inside the Paynesville Public Library (not the bookdrop!) before 1 p.m. on that day to be eligible for a chance to win prizes. 
Pictured are just some of the prizes you might win. 
There's still time to finish your reading and submit a slip. 
Remember...the more you read, the better your chance to win a prize!
Library open hours:

Monday:          2-8 p.m.

Tuesday:         2-6 p.m.

Wednesday:   10 a.m.- 6 p.m.

Thursday:        2-6 p.m.

Friday:             2-8 p.m.

Saturday:        10 a.m.-1 p.m.