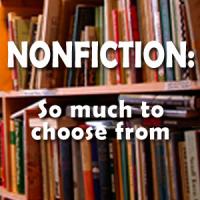 Whoever it was that described libraries as the people's university was probably thinking about their nonfiction collections. We've added more exciting books recently, and you'll find them on our nonfiction list on the New, Best & Fun page tabbed on top of the library catalog. Here are a few examples.
American Made: Why making things will return us to greatness is Dan DiMicco's plea to bring manufacturing back from foreign shores to the USA. DiMicco is the former CEO of America's largest steel company, so he speaks with authority. Celebrity biographer Andrew Morton tackles serious material in 17 Carnations: The royals, the Nazis and the biggest cover-up in history. It's the story of the Duke of Windsor's relationship with Hitler, and the cover-up of a German plan to put the duke on the British throne as a puppet king. Lawyer and Lincoln scholar Brian McGinty explains the importance of Lincoln's Greatest Case: The river, the bridge, and the making of America, and how the young Lincoln played a part in making possible the nation's transcontinental rail system.
The nonfiction shelves are always being renewed with the best of the latest releases. Ask your librarian where to find the subject areas that interest you. Or, browse the list on the New, Best & Fun page. Check it out!