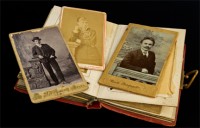 As the saying goes "Families are like fudge... mostly sweet with a few nuts."
Author Unknown
Shake up your family tree! Come to the St. Cloud Public Library from 6:30 to 7:30 p.m. on the first Wednesday of every month to connect with others looking at their family trees. This monthly genealogy club meeting will feature an educational topic and discussion between members. Share tips and ideas for the informal amateur genealogist. Beginner to advanced experience welcome. For ages 16 and up.
CORRECTION: First meeting is Wednesday, Sept. 2 in Room 259.