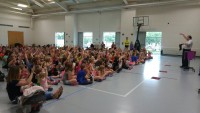 Professor Marvel, aka Robert Halbrook, stunned and amazed about 200 kids and adults during his "Magic of the Olympics: A Summer Reading Celebration" program held at the Becker Community Center on June 14.
The event kicked off the Summer Reading Program at the Becker Public Library. The Summer Reading Program is available for kids 0-18 years of age. Great incentives and grand prizes will help keep kids reading all summer. The Becker library is a terrific resource for books, audio books and electronic books to help kids maintain their reading levels during the summer.
The Summer Reading Program started on June 13 and runs until Aug. 13. If your kids haven't signed up, there is still plenty of time. Sign-up for the program takes place during the Becker library's open hours.
If you missed Professor Marvel's program in Becker, check the library Events calendar on the website, www.griver.org, for other library locations sponsoring this event. It is fun for all ages.