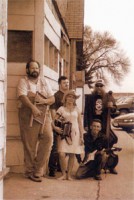 Join us at the Buffalo Public Library for music from the Everett Smithson Band on Thursday, Feb. 19, 6:30 to 8:00 p.m.
At 6:30 p.m., band members will share harmonica lessons with the young and young at heart. Harmonicas are provided or bring your own. These lessons are sponsored by the Minnesota Blues Society. The band performance is 7:00 to 8:00 p.m. in the library proper and is funded by the Clean Water, Land and Legacy grant. New Orleans/French Quarter music is what you will see and hear, including standards and original songs.
Everett and Kathy Smithson are Buffalo locals and other band members are Phil Schmid on guitar, Jeremy Johnson on drums and Bill Black on standup bass. Everett sings, plays the harmonica and other instruments. Kathy also sings and plays accordion, washboard, etc. The band has been together for years and plays nationally.