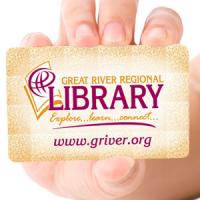 September is National Library Card Sign-Up Month. Visit the library to check out something new. Whether this is your first library card or you just wish to 'dust-off'' your old card, the staff at Elk River Public Library will be excited to see you! The library is truly a friend to old and young, providing information and enjoyment for every age group.
Not convinced? Well, here are six reasons to visit the Elk River Public Library and get your library card!
Reason #1: The Elk River Library regularly receives 59 current magazines, as well as the Star Tribune, USA Today, the Wall Street Journal, and the Minneapolis/St. Paul Business Journal. Check out old copies of magazines, or enjoy current issues and newspapers in the cozy seating area by our fireplace.
Reason #2: The Elk River Library has a special section of shelves for items in Spanish and Russian, perfect for students working on foreign language skills, or for patrons proficient in other languages.
Reason #3: The Elk River Library is home to many book club kits for juvenile and adult readers.
Reason #4: The Elk River Library is proud to offer the public free programming throughout the year. Watch for our author visits, special live music played on Saturdays, and Storytime for toddlers and pre-schoolers.
Reason #5: The friendly staff at Elk River Library loves to assist readers of all ages with book recommendations and research help.
Reason #6: Your library card entitles you to use all of the resources at 32 Great River Regional Library locations, including 950,000 items (books, DVDs, CDs, audiobooks, magazines), a digital library for downloads, online reference services, and more.
Help the Staff at Elk River Library celebrate National Library Card sign-Up month!