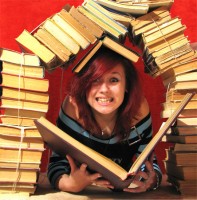 If you like to read, play games and eat pizza, grab your friends, sign up at the Albany Public Library and start reading.
Students may sign up in groups or individually to participate in the Battle of the Books for Teens. The event, in which teams compete to see who remembers the most about the books they have read, will be Tuesday, Feb. 18, from 6:00 to 8:00 p.m. at the Albany library.
The titles this year are "The Outsiders" by S.E. Hinton, "Princess Bride" by William Goldman, "Hoot" by Carl Hiassen, and "Dead to You" by Lisa McMann.
Pizza and pop will be provided for all participants after the battle. Preregistration is required and ends Feb. 12. For ages 13 to 17. Limit 20.
Sponsored by the Friends of the Albany Library.