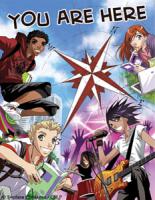 Two Summer Programs in 2011
Great River Regional Library is offering two Summer Reading Programs that end Aug. 13: One World, Many Stories for children up to 12, and You Are Here for teens. Summer Reading Programs help ensure that students maintain their reading skills over the summer, leading to more success in school and in life.
Thanks to Our Community Partners
Each year, we ask for assistance from community partners who help support Summer Reading Programs with their generous contribution. The list of our 2011 community partners includes:
Central MN Noon Optimist Club, Inc., Kimball
St. Cloud Lions Club
St. Cloud Morning Optimist Club, St. Cloud
The Bernick Companies, St. Cloud
Buffalo Lions Club, Buffalo
D H Blattner & Sons Inc, Avon
Electrolux Home Products North America, St. Cloud
Friends of the Library, Sauk Centre
Lions Club of Clearwater
Lions Club of Cokato
Long Prairie Packing Company, LLC, Long Prairie
Melrose Lions Club
In-kind contributions:
Hardee's of Cold Spring
Jimmy's Pizza, Cold Spring
LarsonAllen, LLP, Cold Spring
Marnanteli's Pizza, Cold Spring
Rengel Printing Company, St. Cloud
Their gifts help provide new books, incentives, and prizes to encourage children to enroll and continue reading when school has ended.
Invest In Opportunity
It isn't too late to make a contribution to the GRRL Summer Reading Program. Every donation you make has an impact on helping keep children reading during the summer, encouraging their prospects for academic success. Please send your tax-deductible contribution to GRRL today to keep our children reading. Go to our PayPal page to make your donation online, or mail your check with our Gift Form.