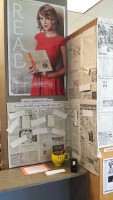 Teens at the Monticello Public Library have the opportunity to celebrate the Newbery Medal winning book "The Giver" by Lois Lowry and win a READ poster featuring Taylor Swift.
Swift appears in the new film version of "The Giver," along with Jeff Bridges and Meryl Streep. Lowry's book tells the story of a perfect world in which everyone is happy. But when one boy is chosen to be the community's Receiver of Memories he enters into training with an old man named The Giver and learns about pain, sadness, and the unhappy truths of the "real" world.
To go along with the theme of the book, teens are invited to write down their favorite memory and post it on the board beneath the Swift poster at the library. They have until Wednesday, Sept. 17 to enter the drawing for a chance to win a Taylor Swift READ poster of their own.