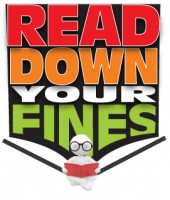 More than 100 minors regained borrowing privileges thanks to Great River Regional Library's first "Read Down Your Fines" program.
After all of the numbers were totaled, library staff felt happy that the effort was a success. So much so, the program will be offered again in October.
Read Down Your Fines gives holders of minor cards the opportunity to pay off fines accumulated on their account. They do it by reading at the library. Fifteen minutes of reading cancels $1 in fines. During the program's first implementation June 24 to 29:
   $542 in fines was waived
   153 hours of reading at the library was completed
   134 teens and children regained full cardholder privileges
As a result of their efforts, the minors who took part in the program are once again able to check out materials to take home. (Library policies forbid loans to patrons with $6 or more in charges on their library account.)
The program will be repeated during Teen Read Week, Oct. 13 to 19, and the staff is hopeful it will surpass the impact of the initial run.
The program was implemented because staff were aware that some children accumulate fines because of situations beyond their control. They wanted to use library services, and would benefit from using library services, but were facing financial obstacles. The program was supported by a successful Read Down Your Fines fundraising campaign, which offset the cost to the library of waiving fines.