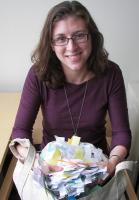 Five lucky winners in the Teen Summer Reading Program (TSRP) prize drawing had their names drawn and will receive prizes this week. Beth Ringsmuth Stolpman, patron services specialist, had to dig down through 10,817 signed reading coupons to pick the winning five, each of whom will receive a $25 gift card.
The winners are:
Casey Lysdahl of Elk River (Best Buy gift card)
Stanley (with no last name) of Cold Spring (Hot Topic gift card)
Kyndra Dockendorf of Cold Spring (Target gift card)
Brittany DeValk of Elk River (iTunes gift card)
Chelsea Steffens of St. Michael (Barnes & Noble gift card)
It was a record-breaking year for the TSRP, with 1,601 teens registered who returned 10,817 coupons. This is a 27 percent increase over 2009's 8,482 coupons returned. The coupons represent 43,268 hours of reading done by teens, which is like one person reading all day every day for nearly 5 years! Cold Spring and St. Cloud had the highest participation, with 160 teens registered at each location. The Cold Spring teens read twice as much as St. Cloud teens, and returned 2,239 coupons. Why? The Cold Spring library had its own prize drawing for an iPod, which may have been the perfect incentive.
Regional prizes are funded by the St. Cloud Friends of the Library. The 2011 TSRP theme will be "You Are Here."
Photo: Patron Services Specialist Beth Ringsmuth Stolpman and 10,817 reading coupons.