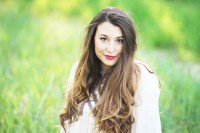 Taylor Hendrickson of Taylor Hendrickson Photography will teach you tips, tricks and tactics so you can shoot better digital photos of yourself, family and friends, and of the world around you. The class will be held Monday, May 16 from 5:00 - 7:30 p.m. at the Paynesville Public Library. Bring your digital camera or smartphone camera. For ages 12 though adult. Limit of 15. Register online, or call (320.243.7343) or stop in to the Paynesville Public Library to register.
Paynesville Branch Open Hours:
Mondays 2-8 p.m.
Tuesdays 2-6 p.m.
Wednesdays 10 a.m. - 6 p.m.
Thursdays 2-6 p.m.
Fridays 2-8 p.m.
Saturdays 10 a.m. - 1 p.m.