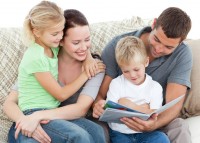 In 1969, Great River Regional Library (GRRL) set the foundation for our regional public library system. Our purpose has not changed 45 years later. We remain dedicated to meeting the information needs of our communities.
Today's library is probably quite different from the library you grew up with. The digital revolution began at Great River in 1996, when we put a separate barcode on each book, record and video, and scanned them into a large computer file so we would know where every item was at all times. That investment in technology and staff hours improved the services enjoyed by our patrons. Now, you can access the files for our computer catalog online from your local library or home. You can check out your favorite books, magazines or movies, download eBooks and eAudiobooks, study foreign languages, view car repair manuals, research family history, attend programs and do more through our website.
We want to continue improving our services. Your library is tax funded, but demands on the tax dollar mean that the library always struggles to be the best it can be. Public support is what makes it possible for us to provide more. We want to improve services to the homebound, make our website more useful, and do more community programming, not forgetting to keep our materials collection fresh and up-to-date.
Please consider making a gift to GRRL Annual Appeal. Your gift will help to support the areas of greatest need, and will help ensure that today's libraries can stand on top of the strong foundation set back in 1969. Your gift, no matter its size, will make a difference. Please take a moment right now to make your 2014 tax-deductible contribution using the secure PayPal online link on our Support The Library page.
Thank you for your support.