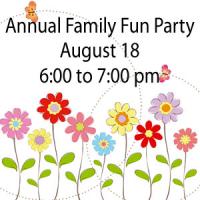 The rainy weather and the temporary State of Minnesota shutdown delayed the planned water, sewer and road work in front of the Howard Lake library, but the clear street probably helped generate a record number of participants for the Summer Reading Program.
So far this year, and with a little over two weeks to go, a record 224 readers in all three age groups have read more than 1,300 hours since June 13!
Carol Sideen's Thursday morning storytimes have been very popular and a lot of fun! We have two more travel adventures planned, on Thursday mornings from 10:30 to 11:45!
Robin and her lovable Springer spaniel, Jerry, will also be back on Saturday, Aug. 13, for another Read to a Dog session, sponsored by R.E.A.D. (Reading Education Assistance Dogs).
Saturday, Aug. 13 is also the last day we can accept reading coupons, so hopefully we'll see everyone that week to turn these in!
We're looking forward to the annual family fun party given by the Friends of the Library on Aug. 18, from 6:00 to 7:00 p.m. in the Community Room. All Summer Reading Program participants, readers and their families are welcome to come for games, treats and prizes. Local Grand Prize drawing winners will be announced and those present will get to take home their prizes.(Drawing prizewinners do not have to be present to win.)
The party is being planned in the Community Room because we have been alerted that 6th Avenue in front of the Library is likely to be under construction after approximately Sunday, Aug. 14. Access to the parking lot of the Community Room on 7th Street, between 6th Avenue and 7th Avenue, will remain open throughout any and all road construction.
When road construction starts in earnest on our block, our contingency plans call for patrons to once again use the Community Room entrance, followed by the stairwell down to the library. Sadly, this means that the library will not be handicapped accessible during at least part of the water, sewer and road work. We are forming strategies now for serving patrons who find the temporary access too difficult or impossible.
We are aware that this will be a big inconvenience to many, and a severe inconvenience to some, but we will work hard to keep things running as smoothly as possible during this period.
As things progress, watch for the bright "construction" theme posters. We will post these at both the library and the Community Room access doors. Additionally, we will keep you up to date in this column. Feel free to call the library with any questions you may have.