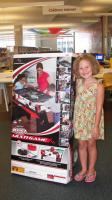 A new high mark of 12,264 toddlers, children and teens registered for the 2011 Summer Reading Program. They turned in 13,957 slips recording a total of 69,785 reading hours. That's a lot of summer reading!
Locations with the most participants (from highest through fourth highest) were:
Baby/toddler program: St. Cloud, Delano, Elk River and St. Michael
Children's program: St. Cloud, Delano, Elk River, and St. Michael
Teen program: Cold Spring, St. Michael, St. Cloud and Elk River
After a successful Summer Reading Program, the cherry on the cake is giving some lucky kids cool awards. Four children's grand prize winners were drawn. Each received a Sportcraft Titan 10 in 1 Multi Game Table including games of basketball, billiard, baseball toss, football toss, bean bag toss, flipper soccer, hover hockey, chess, checkers and backgammon. Little Jadeyn Stover could not stop grinning when she came to the St. Cloud Public Library with her mother and brother to receive her prize.
"The kids have never won anything before so they can't believe it," said Jadeyn's mom.
Other children's winners were Brooke Hoffarth from Albany, Colton Shay from Albany, and Marcy Wolbeck from Little Falls.
Teen Winners
Six teen winners were drawn.
Noah Spadgenske, grade 10, Cold Spring
Nicole Dueland, grade 7, Cold Spring
Caleb Peirce, grade 9, Becker
Abby Kruse, grade 9, Monticello
Ben Miller, grade 9, St. Cloud
Jacenta Kresky, grade 8, Waite Park
Each received a $25 gift card of their choice from Target, Best Buy, Amazon.com, Barnes & Noble, iTunes, or Hot Topic.
All prizes were purchased with gift funds from the St. Cloud Friends of the Library generated through the Friends bookstore in St. Cloud.