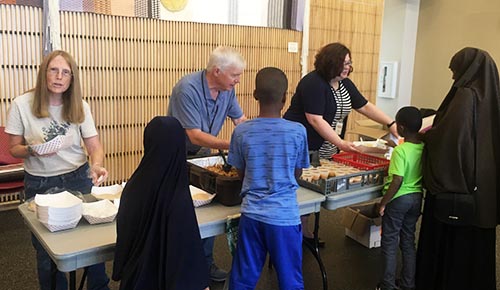 The St. Cloud Public Library WANTS YOU ... to volunteer with this year's Summer Meals Program!
The library is once again partnering with the Yes Network to be a lunch site for the USDA's Summer Food Service Program. The skinny: each weekday, children up to 18 years old will be able to receive a free, hot meal over the lunch hour.
The meals program runs concurrently with Great River Regional Library's Summer Reading Program, June 10-Aug. 9.
Lunches will be served Monday-Friday from 11:30 a.m.-12:15 p.m. and help is needed from 11:15 a.m.-12:30 p.m. Volunteers are needed to help serve the food, monitor the lunch area, and help with cleanup. 
Two to three volunteers are needed each day, and everyone interested must first pass a background check.
If you would like to find out more about this volunteer opportunity, contact Kate Buechler, Patron Services Librarian, at (320) 650-2561 or kateb@grrl.lib.mn.us.
You're also invited to attend one of the following informational sessions, all held in the Bremer Room of the library. 
Thursday, May 23 at 6:00 pm      
Friday, May 24 at 10:30 am     
Monday, June 3 at 4:00 pm 
If you're looking for a volunteer opportunity to add to your summer routine, this is a great one!